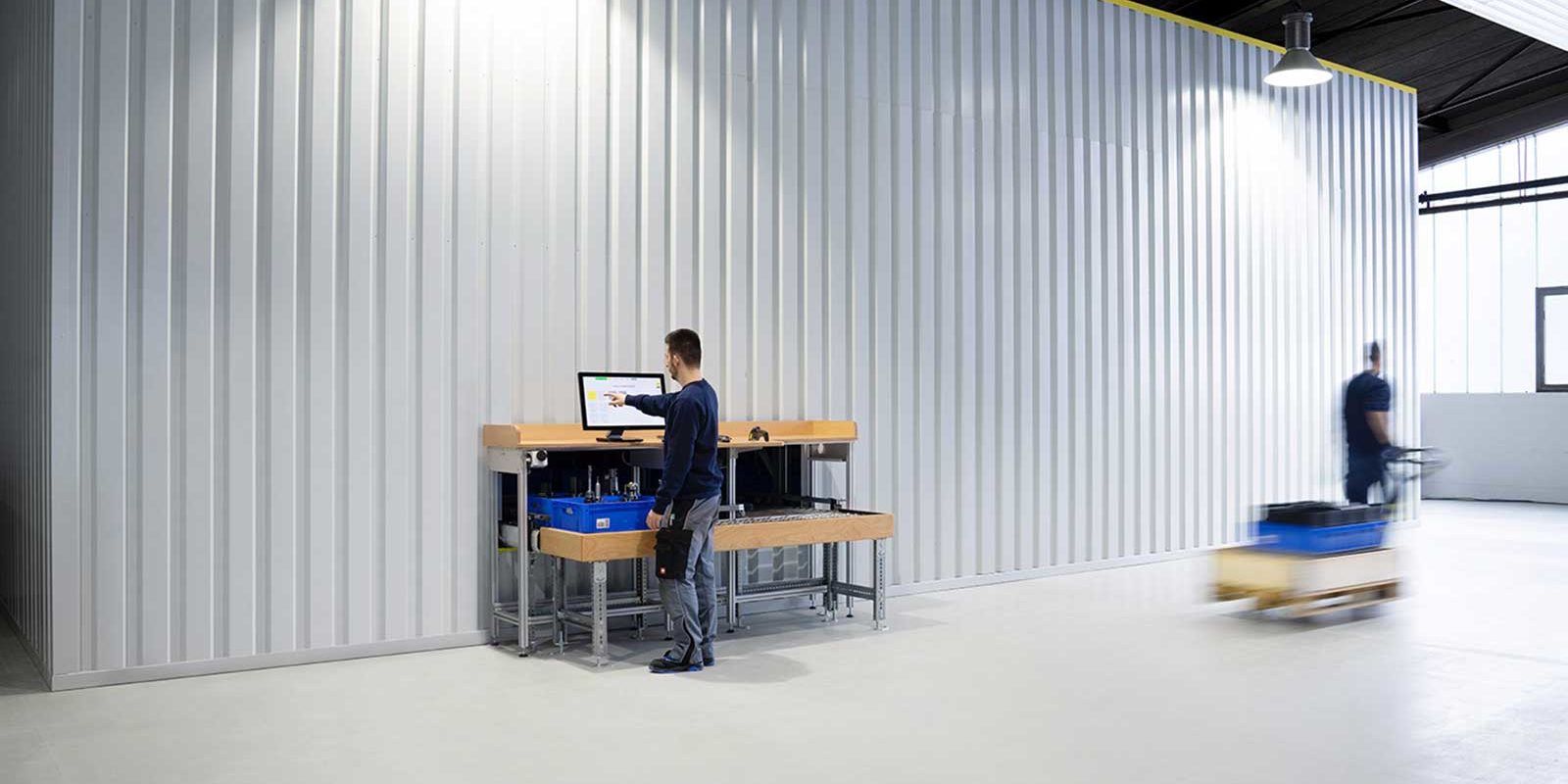 Compact warehouse microstore
The lean, automated compact warehouse solution: psb microstore
The new compact warehouse psb microstore is ideal for starting the automatic storage of small parts in the goods-to-person system for a limited budget: »Lean« and yet powerful.
The lean warehouse solution is implemented with a racking system, a vario.sprinter shuttle for storing and retrieving the goods and a lift that transports the shuttle with the goods to the different storage levels. The system is complemented by a picking workstation, arranged on the side, which automatically provides up to 150 totes per hour.
Compact and effective
Depending on the individual requirements, the goods are automatically stored single- or multi-deep in totes or trays with basic dimensions of 600 x 400 mm or 650 x 450 mm and a weight of up to 70 kg. When using trays, existing totes or cartons can also be used by the customer, as can small storage units that can simply be placed on the trays.
Almost any height and length variant can be realised. The compact warehouse is tailored exactly to the specific conditions and requirements of the customer's project. This enables optimal use of the available floor space and height as well as the exact design for the required capacity and performance.
Compared to manual storage solutions, the psb microstore offers decisive advantages:
maximum storage capacity on the available space
real-time inventory overview and stock control
goods access without walkways
Tailored and energy-efficient
In contrast to other lean storage solutions, such as paternoster cabinets or lifting beam systems, the psb compact warehouse is neither limited in height nor in length: The warehouse represents a very efficient automated solution even in low-rise buildings. The workers do not need to walk around, because regardless of the length of the compact warehouse, the stored goods are provided directly at the order picking station.
As only the required storage tote is moved during each storage/retrieval procedure, the microstore can also be operated more energy-efficiently than comparable warehousing solutions. The exceptional concept also allows manual access to all stored goods at any time, for example in the event of a power supply failure.
Warehouse management – plug and play
The psb microstore is designed as stand-alone concept. A terminal at the picking workstation is used to control storage and retrieval processes as well as stock and user management.
With an optional interface, the compact warehouse can also be integrated into a complex system landscape and equipped with additional functions.
Innovative technology – tried and tested
The psb compact warehouse is based on the successful vario.sprinter shuttle system by psb. Innovative, tried-and-tested standard components provide for high system availability and reliability.
The combination of highly efficient components and the recovery of braking energy keeps the power consumption for the operation of the warehouse extremely low.
Wide range of applications
The psb compact warehouse offers a wide range of applications. It can be used as spare parts or tool storage as well as a consolidation warehouse or micro-fulfilment solution, just to name a few.
Even in companies that already operate large automated warehouse systems, the microstore can show its strength as a useful addition where smaller decentralised warehousing tasks are to be solved at reasonable costs.
Simple planning
For planning a tailored microstore, only some basic information is needed:
available floor space and maximum height
storage capacity: number of required storage locations and/or number of totes/trays to be stored
storage performance: number of totes/trays to be stored in and out in an hour
preferred load-carrying unit: tote or tray
maximum weight per tote/tray
Would you like to find out more about our compact warehouse microstore? We look forward to your inquiry!
Got interested?
GET IN TOUCH WITH US!