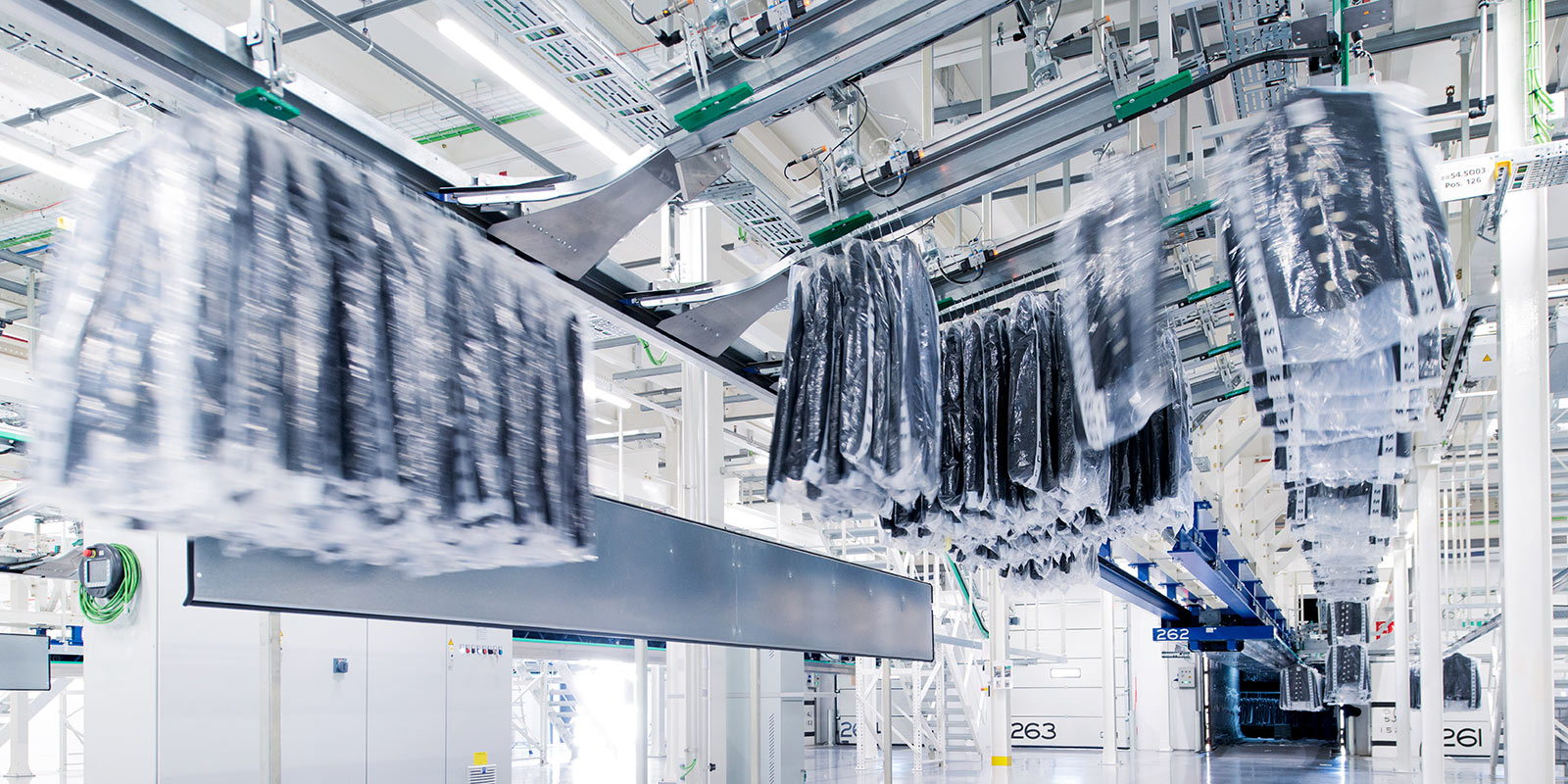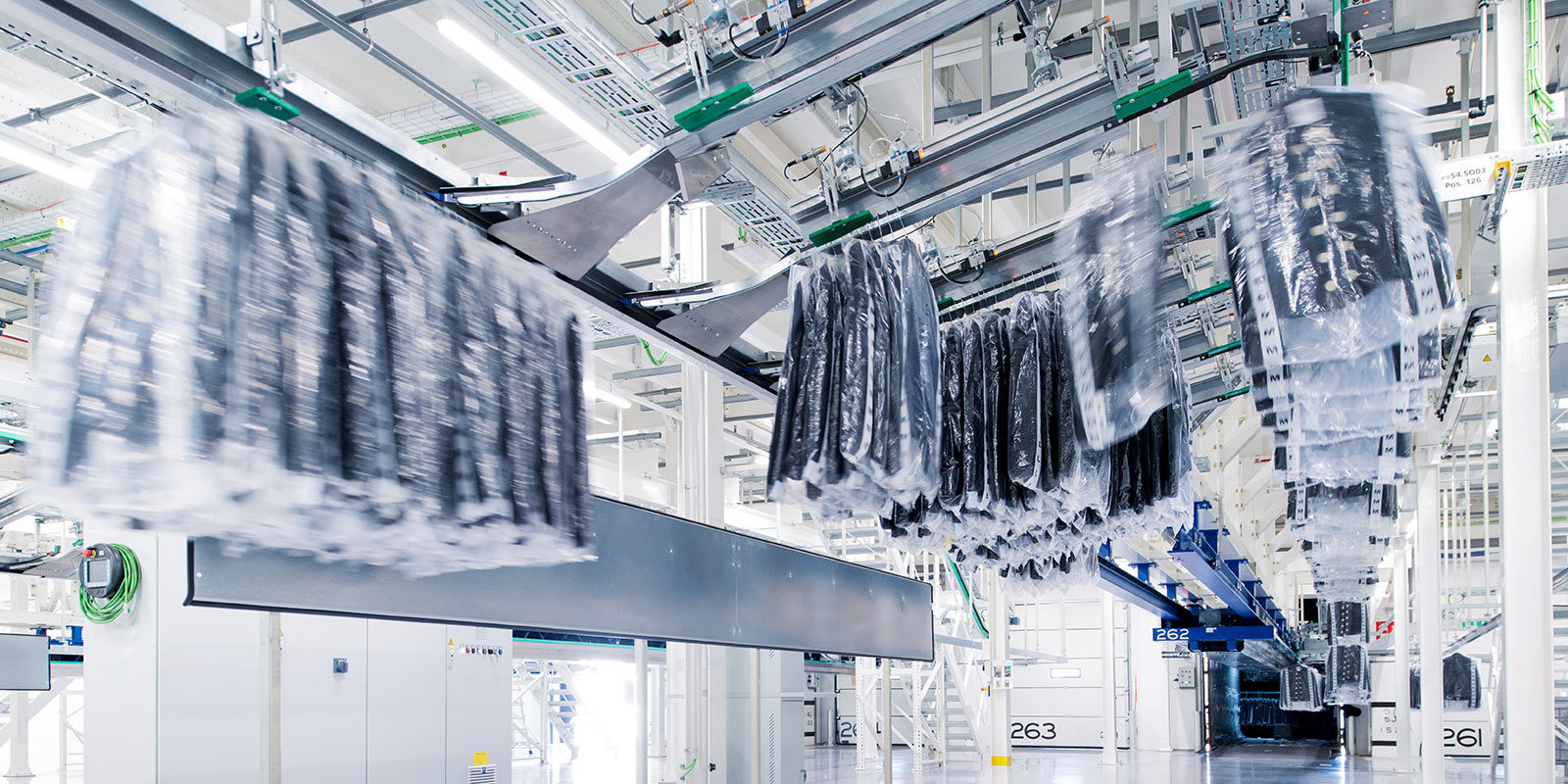 Overhead conveyor technology from psb: perfectly coordinated complete systems for hanging goods
We have the right solutions ready to transport and store hanging garments or other goods such as seat covers. For many years, psb has been offering its customers the complete system range of overhead conveyors for handling and storing hanging goods – regardless of whether it's for garments or bicycles.
With our know-how, we also plan and implement perfectly coordinated intralogistics systems from a single source in this particular area of ​​application. In addition to a comprehensive modular system for automated overhead conveyors, a complete portfolio of manual or partially automated solutions is available for all functions.

A highlight of our in-house overhead conveyor systems is the psb pouch sorter. It uses the basic technology of an overhead conveyor for buffering and picking flat-packed items in pouches. The handling advantages of hanging garments, such as space and easy access to individual parts, can also be used for flat-packed garments.
Storage and buffering of hanging goods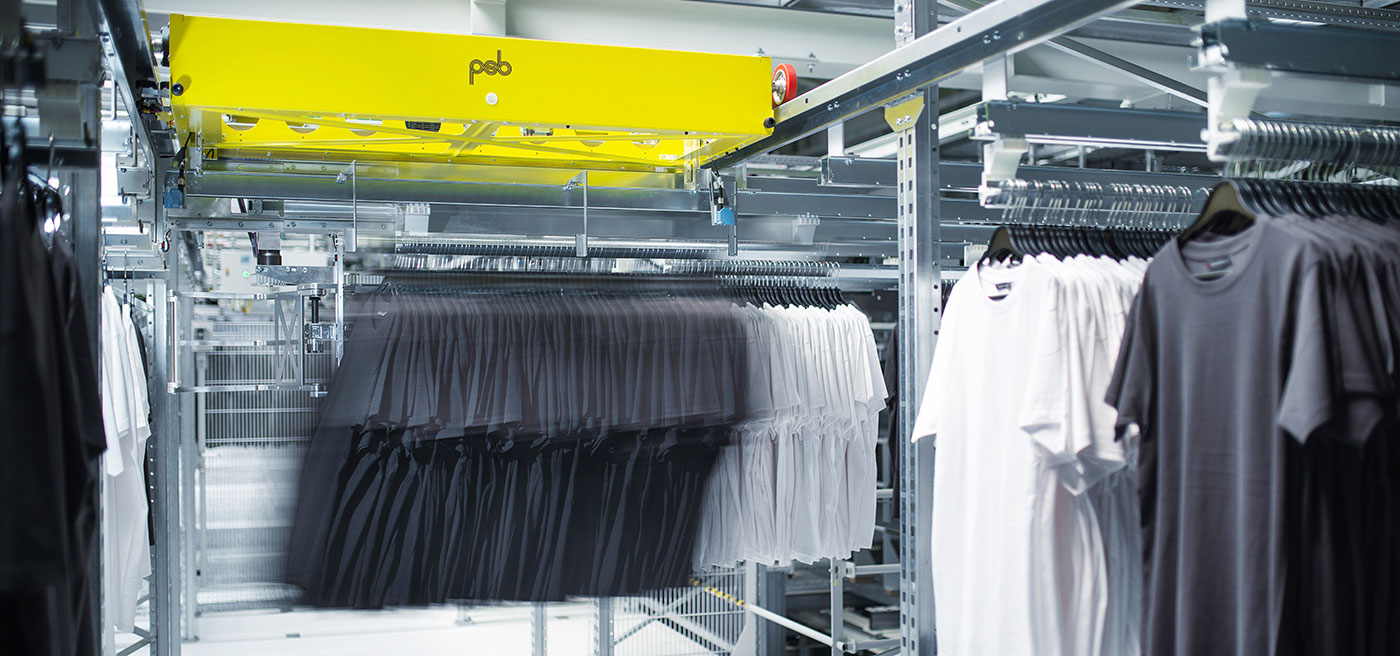 We have two automatic overhead conveyors available for efficient storage of hanging goods. Our hanging goods AS/RS stacker crane type runloader has been successfully in use for many years.
The vario.sprinter hanging garment shuttles in the Dynamic Fashion Warehouse range from psb are in a completely new performance class. The performance increase compared to the classic AS/RS stacker cranes is up to 700%. Due to their easy scalability, the required initial investment is significantly lower. Another advantage is the improved system redundancy of this hanging goods storage system.
Static or dynamic hanging goods buffers are integrated for quick access to the goods on stock. For dynamic buffers with access to individual parts, very short reaction times and correspondingly quick provision of the goods for packing and dispatch are possible.
Transporting hanging goods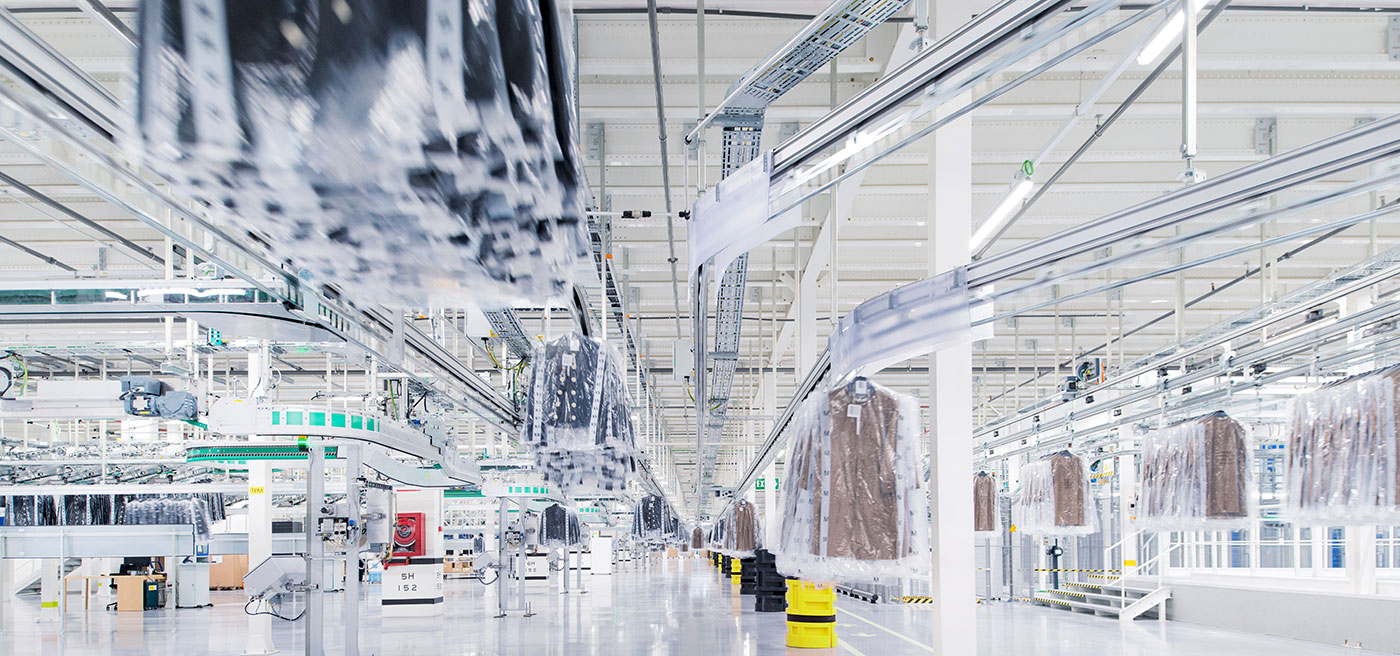 A whole family of overhead conveyor systems is available for transporting goods. Trolleyless conveyor technology ideally complements the various trolley systems. We use the ets electrical transport system for heavy goods. With our manual GTT conveyor technology, transport tasks can be solved very economically and without a high initial investment.
Sorting hanging goods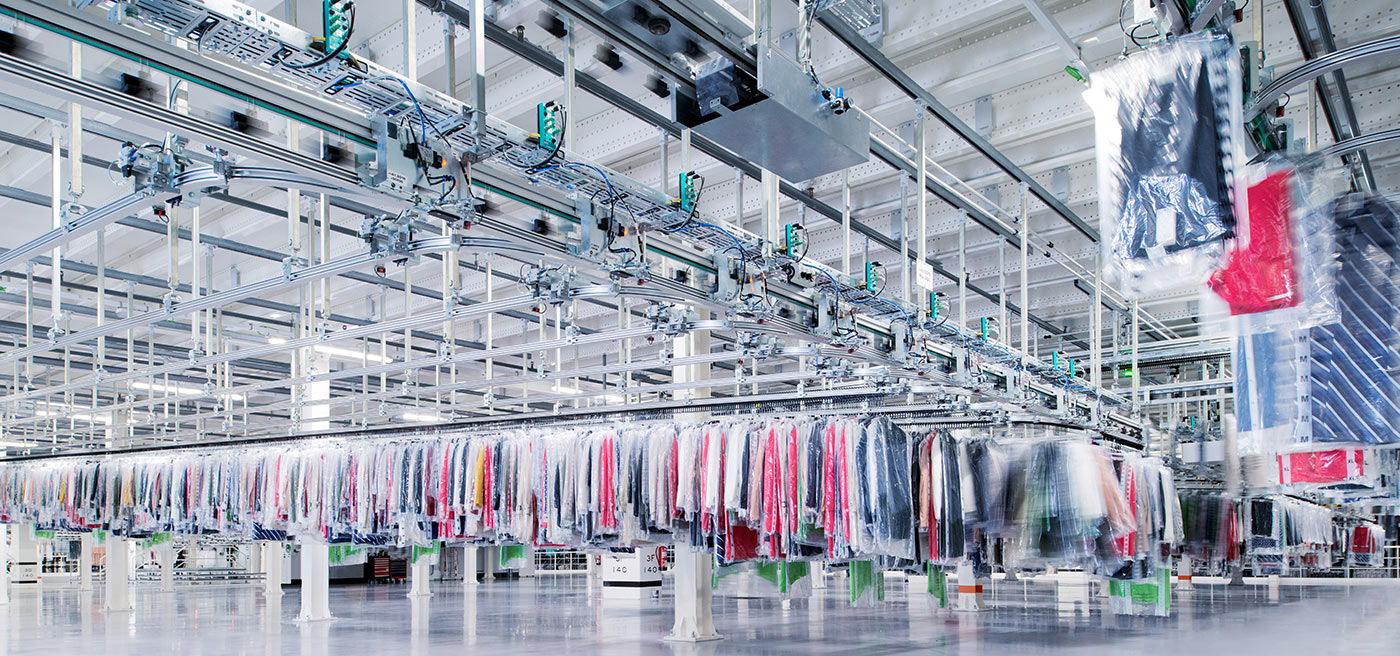 The micro-trolley sorting system mtr with its matrix sorting of up to three stages is suitable for a precise sequence with high performance. Ideally linked with our buffer systems, it eliminates complicated system changes.
Additional functions for hanging goods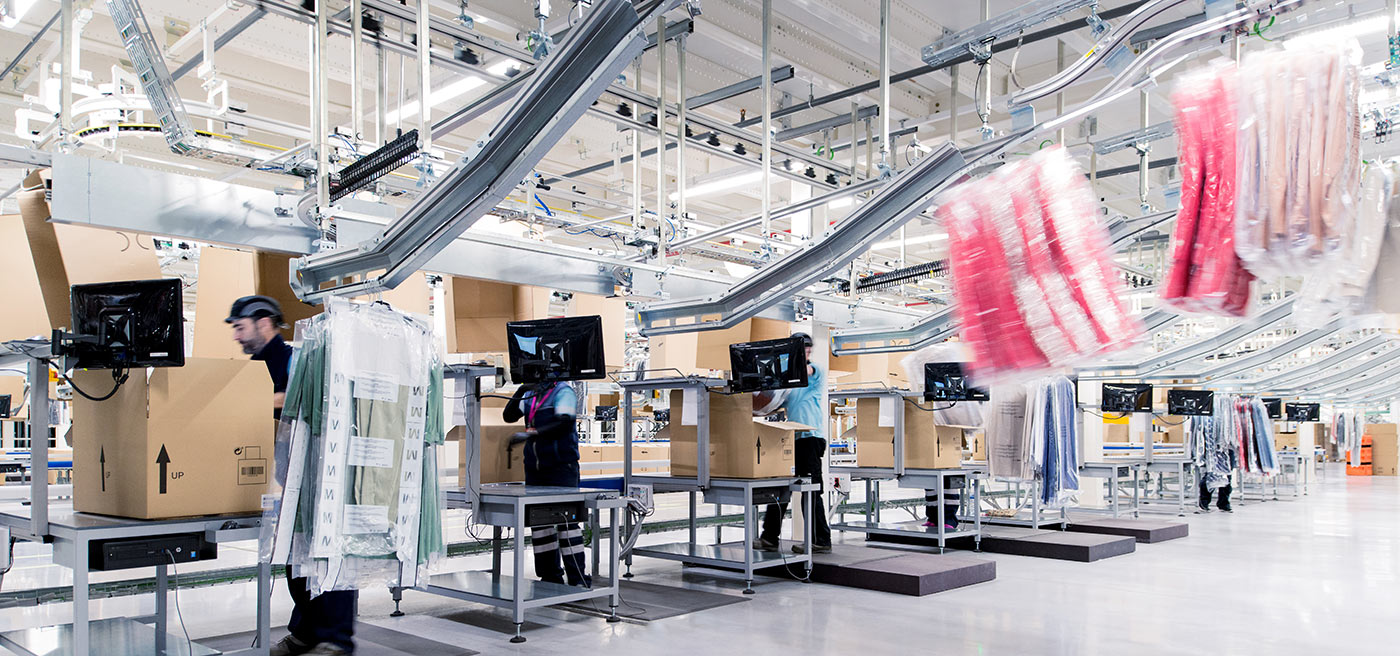 As a full-range supplier, we have different solutions for all necessary intralogistics functions in the system portfolio for overhead conveyors. In this way, we can offer our customers a complete solution that is perfectly tailored to your project.
The various systems for overhead conveyors are supplemented by the associated workstations and connected functional areas, such as automatic truck unloading with automated inbound goods, quality assurance, value-added services, "flat to hang", packaging and dispatch.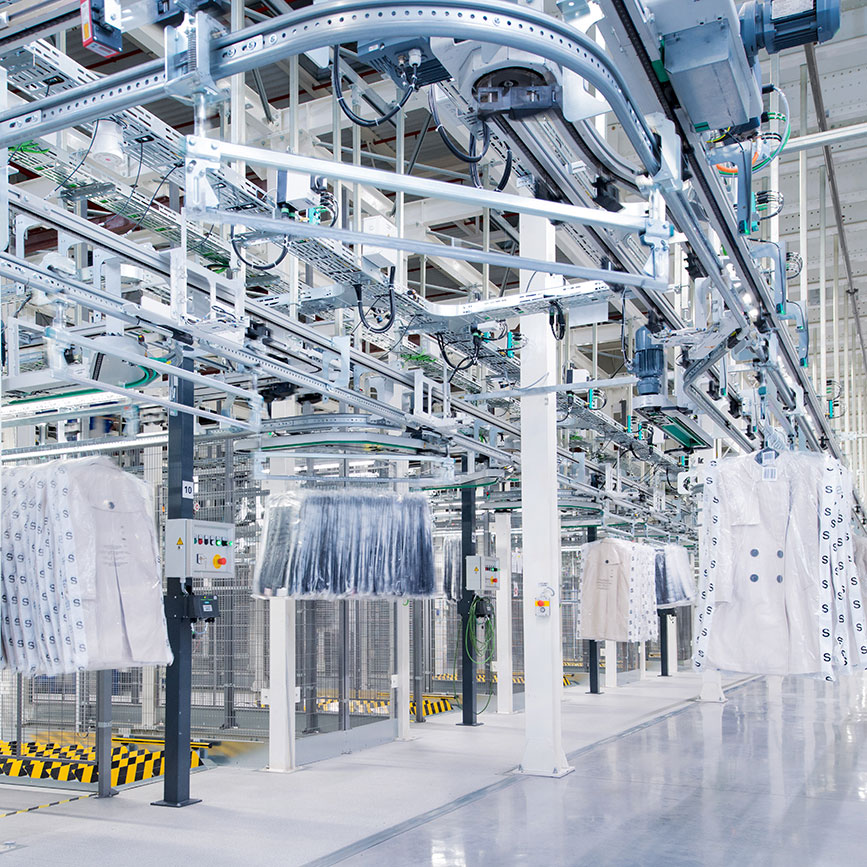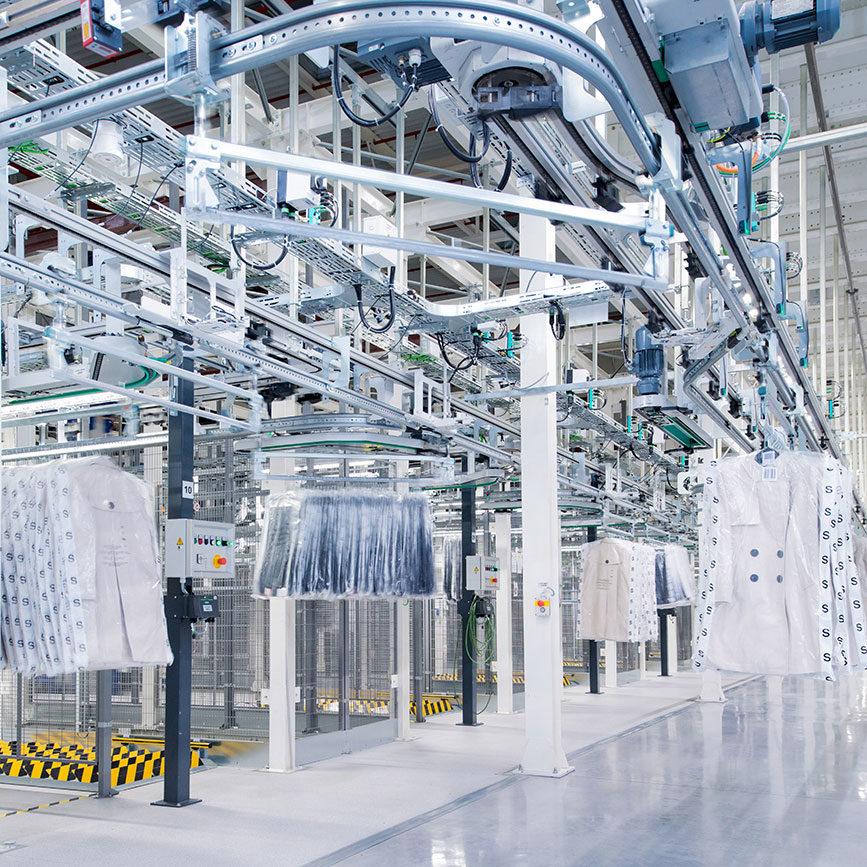 Best Practices
We also implement intralogistics solutions for hanging garments completely with internal know-how and psb's own system technology. In this way, we offer our customers perfectly coordinated, individually adapted complete systems: from incoming goods to storage and handling to outgoing goods. Our customers are particularly impressed by the seamless integration of hanging and flat goods systems.
Find out more about our coordinated intralogistics solutions for hanging goods in these Best Practices:
Got Interested?
GET in touch with us!