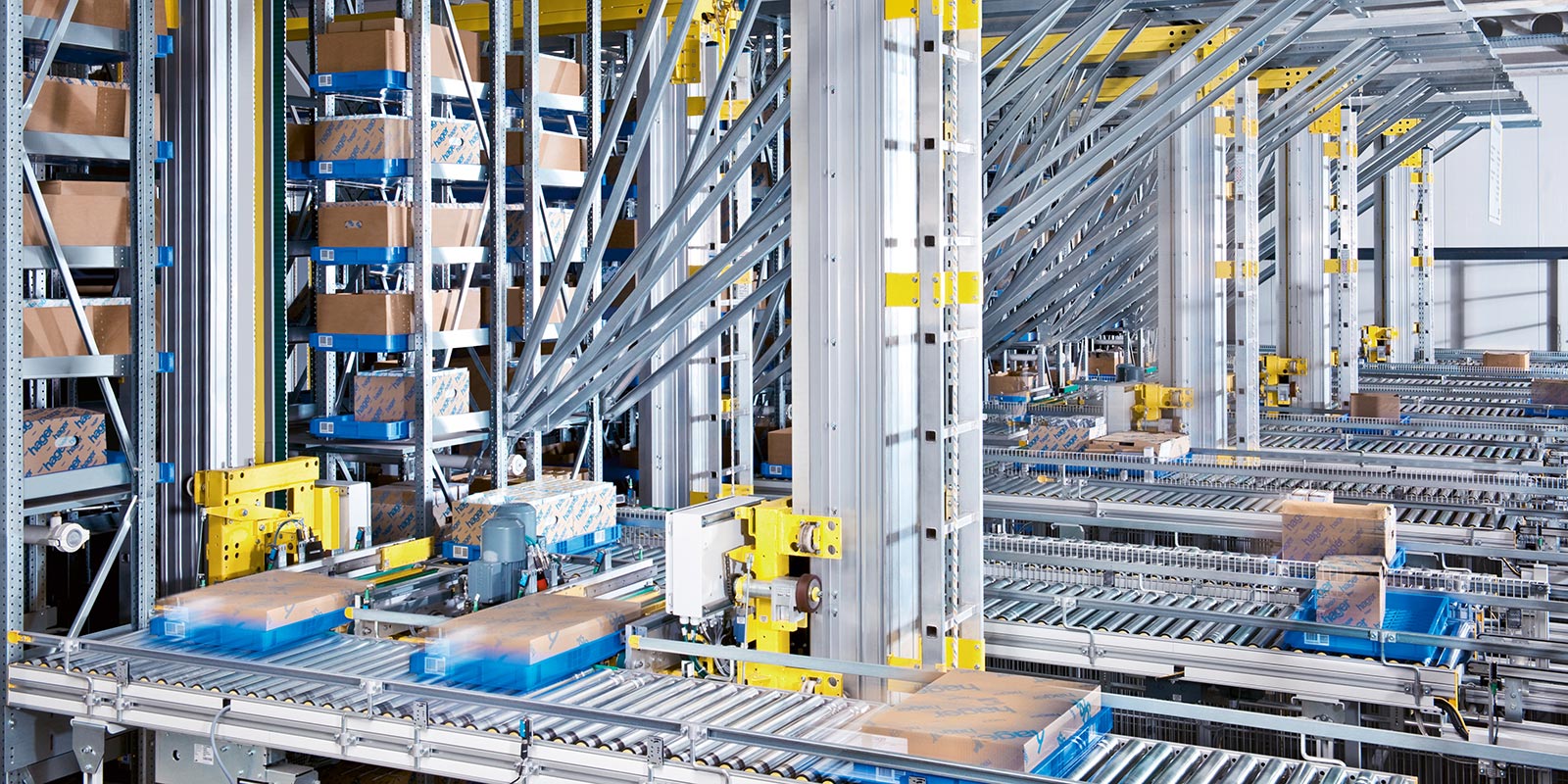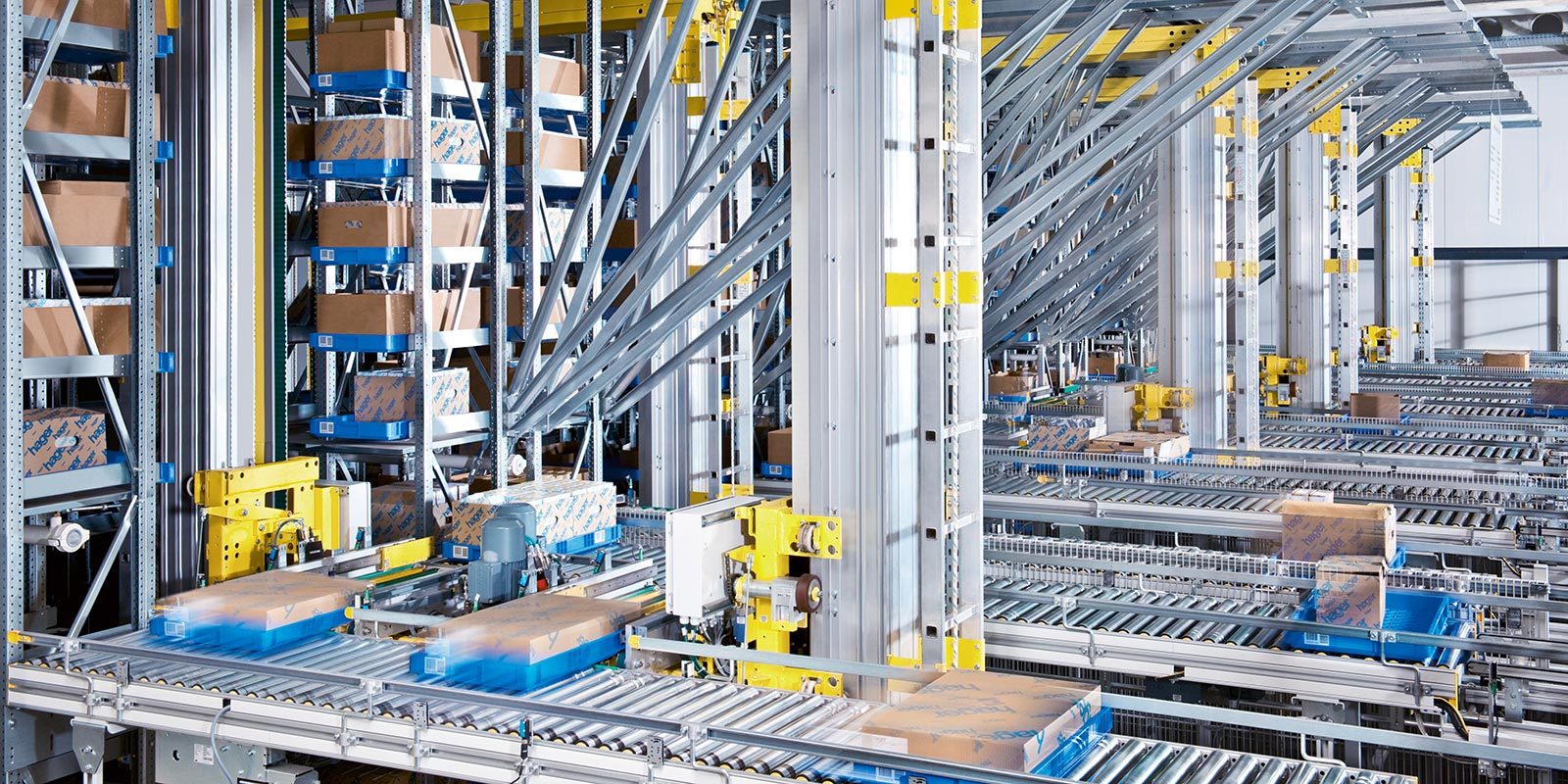 Automated intralogistics solutions
Automated intralogistics solutions
– multiple advantages
For storage and material flow in companies, an automated intralogistics solution is a much more effective and efficient option compared to manual storage with manual processes. An automatic high-bay warehouse also has considerably more capacity and requires less space.
Faster processes with shorter delivery times and an increase in the volume of orders processed per day are further advantages of automation. The increase in turnover rate enables a lower inventory, and therefore a lower capital commitment. This increase in the efficiency of the intralogistics company processes results in a considerable reduction in costs.
Distribution costs can be further reduced as the error rate may be lower. This not only leads to better delivery quality, but also to higher customer satisfaction as a result. The better inventory overview and control also enables simplified sales control.
With an automated intralogistics solution and the company processes adapted to it, significant competitive advantages can be achieved that can have a direct impact on the success of the company.
Independent from the size of the company
Small and medium-sized companies, as well as large companies, benefit from the competitive advantages that an automated intralogistics solution and the associated process optimisation bring with it. Because the parameters that are decisive for the company's success are each the same: Throughput times, process costs, processing speed and processing quality.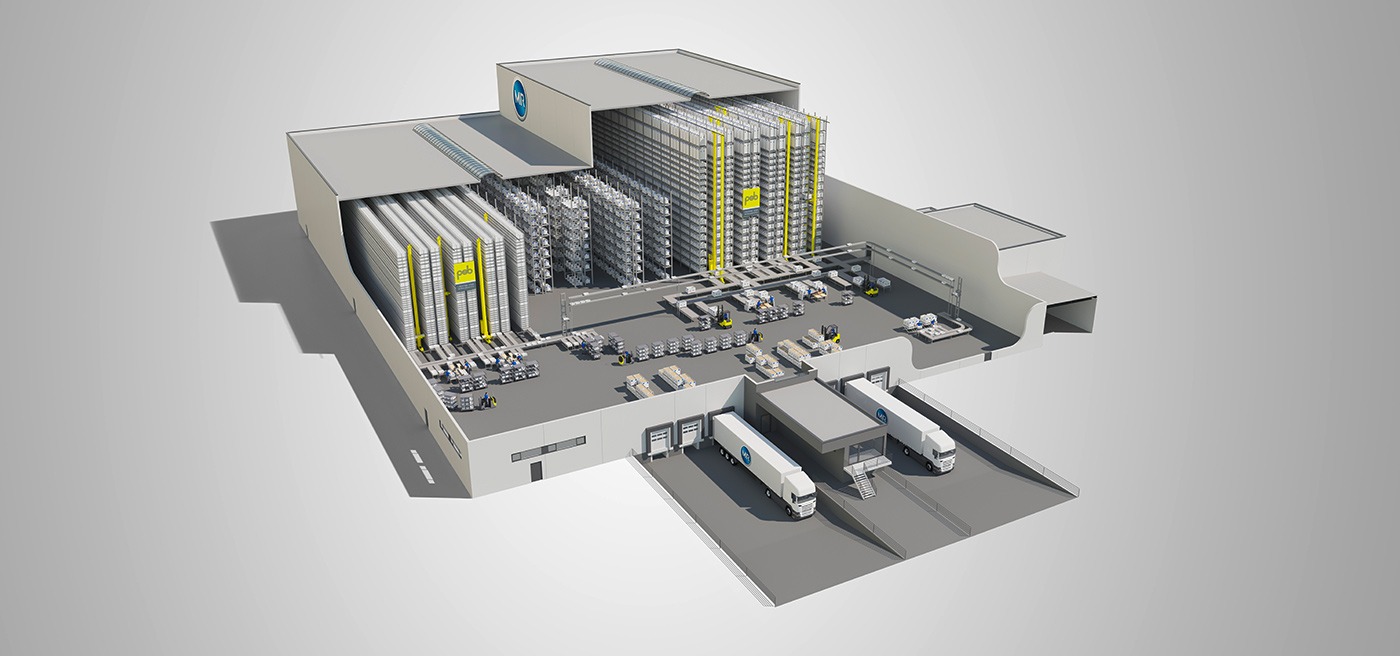 SMEs often reach a size faster than expected, where the automation of intralogistics is worthwhile or even necessary in order to continue to operate successfully in the competition. This can depend on the level of sales, the span of the range of items or a combination of both.
Automated intralogistics solutions are very diverse – both in terms of the systems used and the scope of the overall system. This/the latter ranges from warehouses with a few thousand to several hundred thousand storage spaces, from a simple picking workstation to a high-performance system or robot picking, from a few conveyor technology elements to kilometres of conveyor technology routes.
Tailor-made and sustainable overall concepts
The essential points for a successful automatic intralogistics solution, no matter what size, are the exact design for the respective customer project, as well as the high system quality, well-thought-out concepts and easy adaptability to the constantly changing market requirements.
Every automated complete intralogistics solution consists of a number of different functional areas: Incoming goods, storage, order picking, packaging and dispatch, possibly supplemented by returns management. All intralogistics functions are precisely coordinated by psb and – like the warehouse – designed for the special requirements of your company.
In addition to performance and capacity, flexibility and scalability are the most important planning instruments to mitigate the risks of long investment periods, uncertain business developments and the volatile development of the markets. In principle, we already consider flexible expansion options for your system in the initial planning phase; these can range from an additional workstation to construction stage concepts with a coordinated expansion of the overall system.
psb intralogistics: efficient system partner for automated intralogistics solutions
Our tailor-made and sustainable intralogistics overall solutions are based on our wide range of systems and our extensive know-how as one of the leading European providers of automated storage and material flow solutions.
As a family-run, group-independent medium-sized company that meets companies of all sizes on an equal terms, we have been mastering intralogistics challenges with our competent team of engineers and high-performance project management for decades.
Regardless of whether you offer your customers "same-day delivery" in e-commerce, introduce "one-piece flow" into your electronics production or want to deliver to your fashion stores in the "young fashion" segment on a weekly basis, psb has the right concepts, whether for your production or your distribution.
What do you expect and what are your goals? We take our time and advise you in detail so that we can work together to implement the best possible intralogistics solution for your requirements. And this includes not only the hardware and software of the intralogistics systems, but also all intralogistics company processes.
Gallery