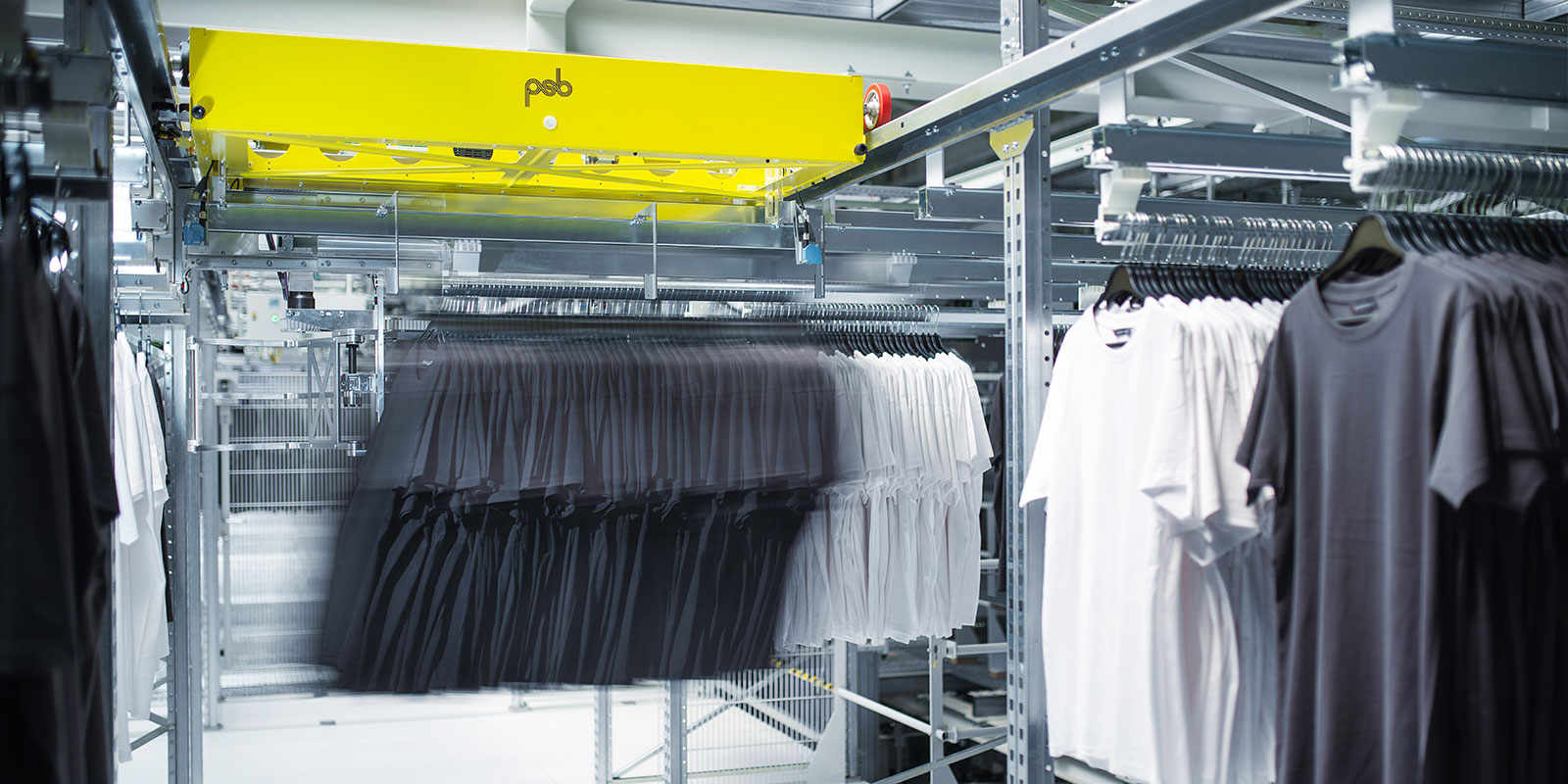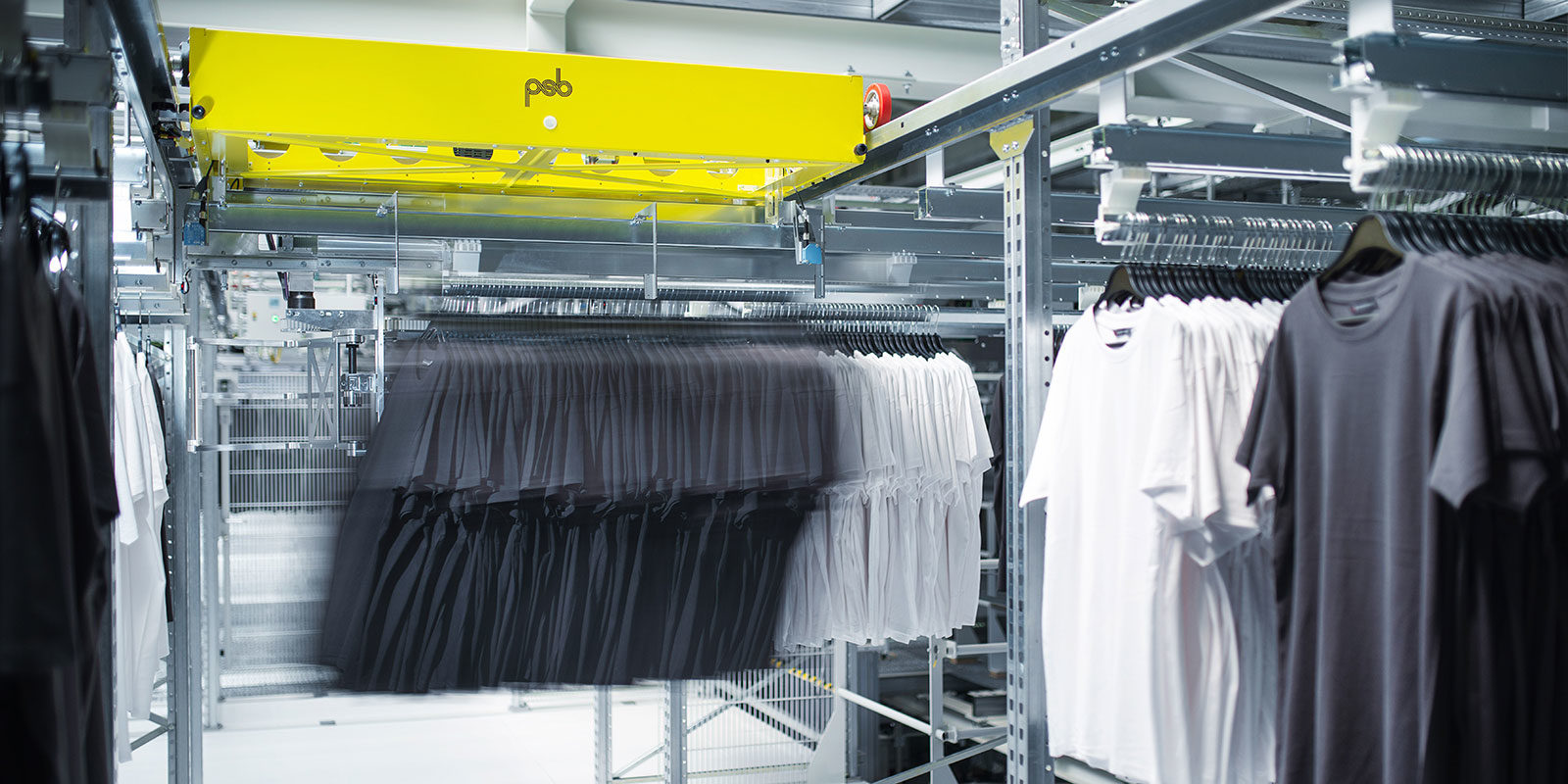 Dynamic Fashion Warehouse
Hanging goods warehouse with outstanding system properties
psb's newly developed Dynamic Fashion Warehouse equipped with a new hanging garment shuttle optimally combines shuttle system and hanging garment technology. With outstanding system properties in terms of performance, storage density, scalability and flexibility, the patented concept sets standards in automatic overhead conveyor technology and also enables completely new usage variants.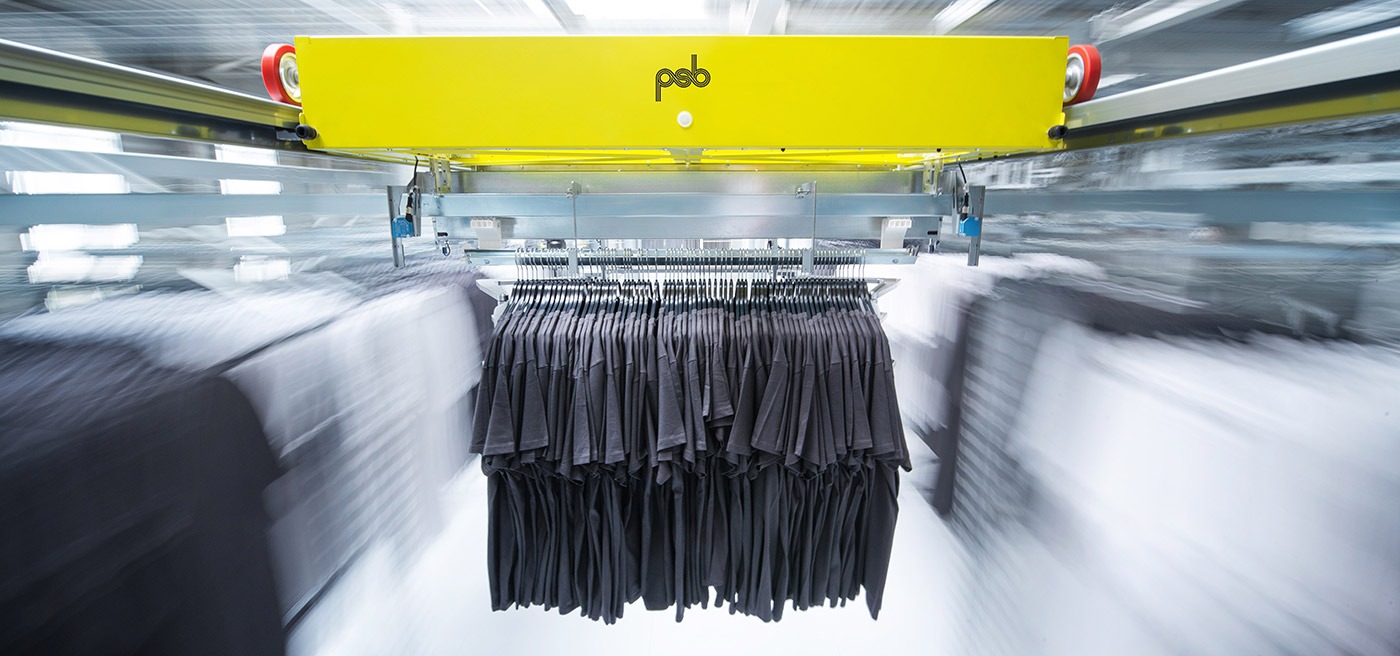 Innovation based on many years of know-how
psb intralogistics, with over six decades of experience in automated overhead conveyor technology, has established itself as the world market leader for hanging goods AS/RS stacker cranes. With its extensive system portfolio for solving a wide variety of tasks, the company is also the first point of contact for unusual requirements in overhead conveyor technology, such as hanging storage in automatic bicycle warehouses that are up to 12-deep.
Based on proven technology and extensive know-how in mechatronics and software, psb has combined the shuttle with overhead conveyor technology and set another milestone in the storage of hanging goods with the Dynamic Fashion Warehouse and the hanging garment shuttles.
Performance
By using several hanging garment shuttles, this new concept achieves the multiple performance of a single stacker crane – comparable with small parts storage. The Dynamic Fashion Warehouse is characterised by a performance increase of 700% compared to automatic warehouses with hanging garments AS/RS stacker cranes.
In addition, the fast handling of the storage bars and/or goods carriers with the blocks of hanging goods as well as the use of several goods carrier lifts also increase the performance. Furthermore, the performance is optimised by the separate storage and retrieval processes at each of the different storage levels. This decoupling results in a simplified and clearly structured material flow to and from the warehouse with independent flows of goods.
Storage density
The storage density of the Dynamic Fashion Warehouse is significantly higher than that of automatic storage with hanging goods AS/RS stacker cranes. This way, up to 25% more goods can be stored in the Dynamic Fashion Warehouse than in a comparable warehouse with an AS/RS stacker crane. The goods carriers with a length of up to 1200 mm are stored up to three-fold deep lengthwise, which is also a significant advantage over the stacker crane solution.
The height division of the storage system can also be optimally adapted to the needs of the customer, and thus, the best possible use of space can be achieved. The division of the channels in the lengthwise direction can also be adapted to the storage of customer's goods.
Scalability
As in the bin area, the psb hanging garment shuttles can also be scaled precisely to changing customer requirements using various measures. Depending on the performance requirements, additional shuttles can be easily integrated into the overall system during operation, thus significantly increasing the output. Additional lifts for transporting the hanging goods to and from the respective storage levels can also be installed in warehouses already in use.
In order to increase capacity, extensions of existing warehouse aisles and additional aisles can also be implemented at any time during operation.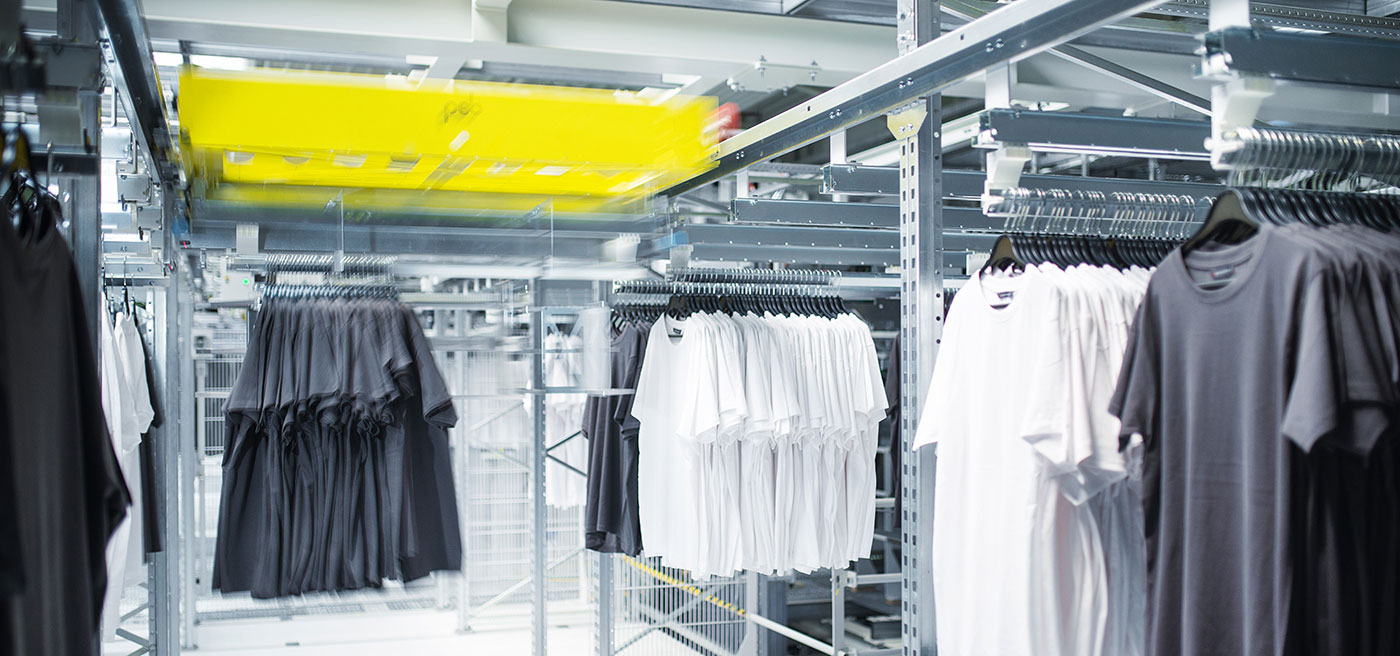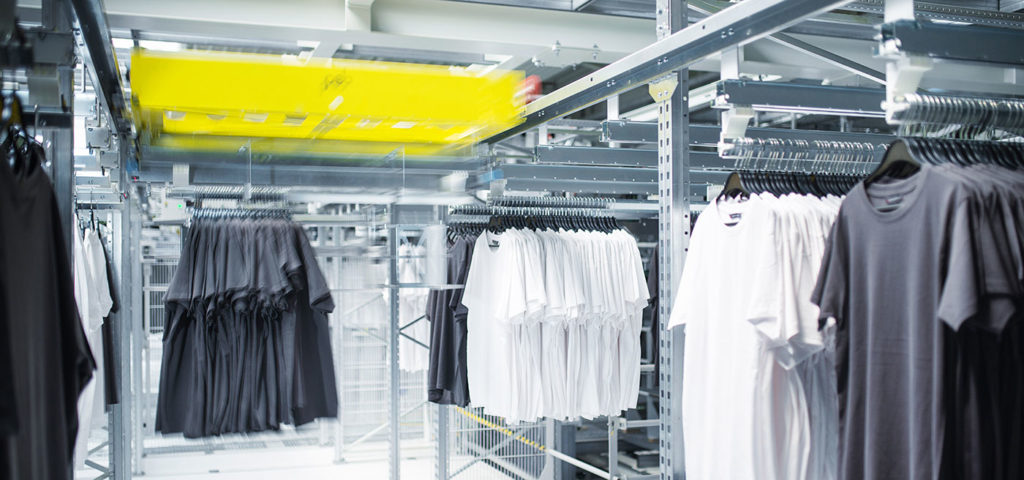 Flexibility
In addition to the simple scalability, the Dynamic Fashion Warehouse is effective due to its flexible handling of goods carriers of different lengths. As with the flat goods shuttles, smaller goods carriers can be stored up to 6-deep and larger units up to 3-deep. As a result, the overall efficiency can be significantly increased. Depending on the requirements, either larger quantities of a single stock keeping unit (SKU) or smaller quantities of several SKUs can be handled.
Mixed goods carriers and partial retrievals
The trend in fashion distribution is towards more SKUs, fewer parts per SKU, faster collection changes and a further increase in the share of e-commerce. This development is associated with ever smaller quantities per stock access.
With its hanging garment shuttles and the associated high-performance values, the Dynamic Fashion Warehouse opens up completely new possibilities for use. For the first time, the economically sensible handling of mixed goods carriers (with a high degree of storage utilisation) as well as partial removal of hanging garments from blocks is possible. This reduces downstream warehouse areas such as dynamic buffers, achieves noticeable better space utilisation and, ultimately, important cost benefits.
Redundancy and handling security
Due to the duplication of hanging garment shuttles as well as goods carrier lifts and the resulting significantly increased redundancy, the Dynamic Fashion Warehouse achieves optimal availability of the stored goods. This is supported by the fact that the goods carriers can be passed through from warehouse aisle to warehouse aisle.
Safe handling is a central aspect of the new psb system. It is important to take into account the different characteristics of the goods (from the light silk blouse to the heavy winter jacket) and the coat hangers (metal or plastic hangers in different qualities). For this reason, the items are transferred to a goods carrier in a safe and controlled manner at a central point outside the warehouse. After that, only these load-carrying units are moved in the Dynamic Fashion Warehouse, which ensures a high level of process reliability within the storage cube and consequently guarantees high availability.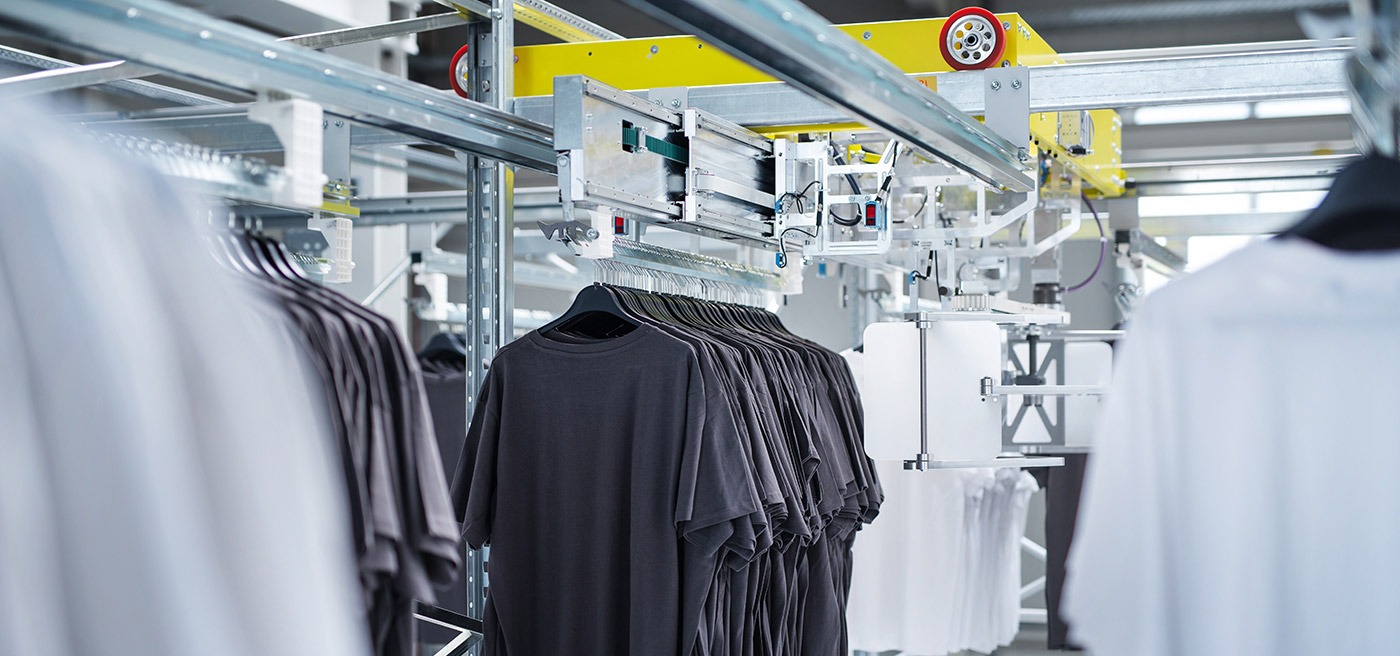 Can also be used for small storage facilities
With the Dynamic Fashion Warehouse, warehouse tasks can already be automated economically for small and medium-sized companies. Medium-sized customers in particular can, for example, start automating their overhead conveyor technology with just one aisle and a small number of shuttles. With growing business success, the warehouse equipment can be flexibly scaled without any disadvantage to profitability.
First system realisation at a customer's site
psb has already acquired a long-term partner with a large number of fashion stores and e-commerce activities for the first implementation of the innovative Dynamic Fashion Warehouse. This customer, very experienced in automatic handling and storage of hanging garments, was impressed by the new system solution and the associated usage scenarios. The three aisles with their GOH shuttles that are currently planned offer the same storage and retrieval capacities as the previous nine aisles with stacker cranes and have a capacity of 1.2 million hanging garments.