psb pouch sorter: efficient solution with a wide range of possible uses
With the psb pouch sorter, the various advantages of overhead conveyor systems can also be used for flat-packed items such as shirts, shoes or other items, thus realising efficient solutions for buffering and sorting single parts.
Technical basis: the proven psb overhead conveyor technology
For the pouch sorter, psb uses the proven technology of its modular mtr micro-trolley system. This innovative conveyor concept for single parts is used for the transport as well as buffering and sorting of hanging garments.
With that technical basis, the pouch sorter also takes over the outstanding advantages of this system: extraordinarily fast and efficient buffering and sorting of single parts in exact sequence. Further distinct features include the modular structure with a very flexible system utilisation, high throughput rates, good accumulation properties and the three-dimensional mobility of the conveyor system.
Technology transfer for innovative handling of flat-packed goods
By utilising sorting pouches as load-carrying units, in addition to hanging garments almost any product group can be buffered, transported and sorted overhead with this highly efficient system.
The pouches are either manually or automatically unloaded at the workstations. For fully automated processes, the pouches are modified accordingly.
Why do innovation and implementation reliability go well together? The mtr technology has been in use at psb for many years and is successfully operated in numerous distribution centers for hanging items.
Modular concept
The system components interlock in a modular manner and are tailored to the needs of the respective customer in terms of size and performance: This applies to the infeed of goods/loading of pouches (also fully automatic), overhead transport, buffering (static or dynamic), sequential matrix sorting, unloading of pouches (also fully automatic).
Depending on the respective project, various upstream and downstream areas complement the intralogistics installation: inbound goods and returns, quality assurance, value added services, packaging, dispatch and other individually adapted functions.
Field of application: highly-efficient handling of single parts in many industries
For the mail order and e-commerce business, the pouch sorter is a highly efficient and very economical solution for buffering single parts and then sorting and dispatching these in exact sequences. As the system has a modular structure and can be easily adapted, it is economically attractive to use for both small and medium-sized configurations as well as for large applications. A step-by-step concept is easy to realise in the implementation because system extensions can be installed into existing modules.
Another important area of ​​application of the pouch sorter, in which the system can fully demonstrate its strengths, is the processing of returns. By buffering the returned goods in a pouch sorter, the time-consuming re-sorting of goods to the original warehouse is no longer necessary. This means that if items are ordered again, they can be quickly retrieved from the returns buffer.
A pouch sorter can be integrated in an existing intralogistics system or installed in place of a conventional solution. If implemented as a system extension in existing plants or buildings, the performance of the established technology can be enhanced very economically through three-dimensional mobility, i.e. the full use of the storey height.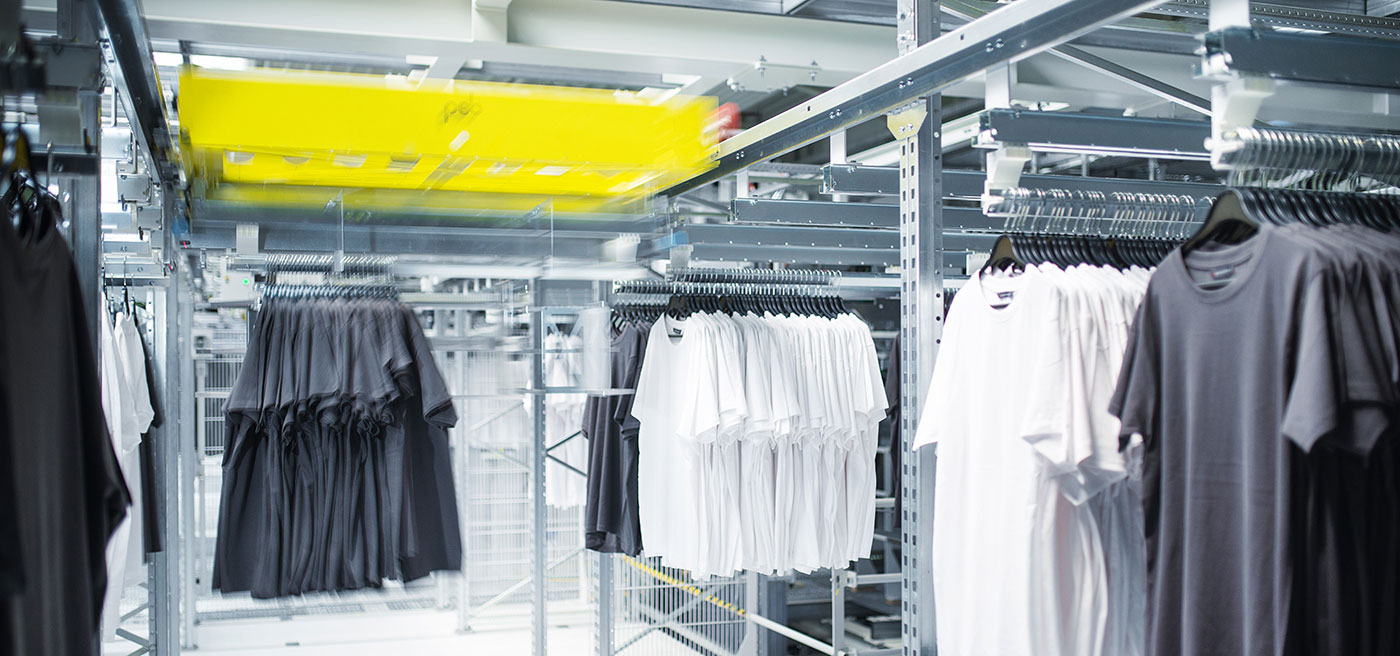 Experience the pouch sorter live: in the psb Technology Center
In addition to various customer projects with the psb pouch sorter in operation, we have established an extensive installation on 1,200 square meters in our Technology Center.

We would like to invite you to gather your own impressions of this innovative intralogistics system and to discuss your individual project approach with us in Pirmasens.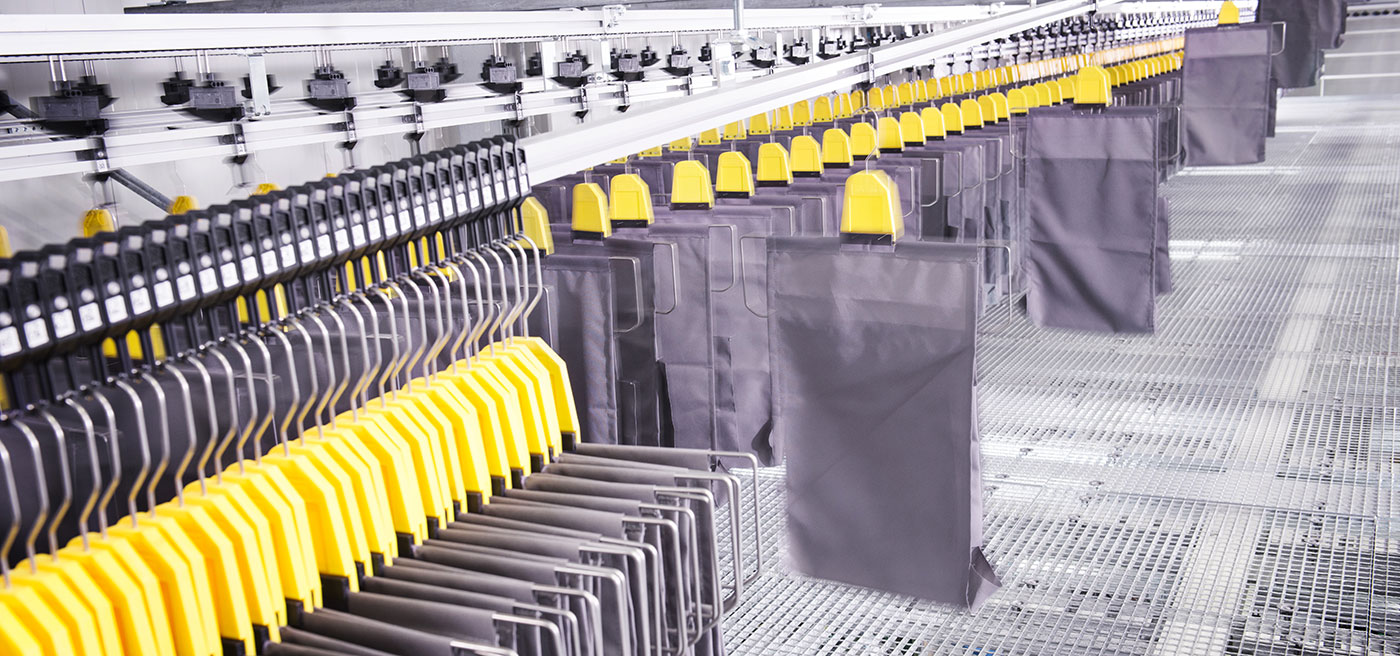 System implementation in omnichannel distribution
The current project is a pouch sorter installation for a logistics service provider operating internationally. With this intralogistics system, the omnichannel distribution for the German market is handled for an internationally successful premium fashion label.
Gallery